WordPress 5.2 is expected to be released by the end of April 2019. We have been following the development and tested the first beta to try out new features that are on the way.
This release will bring improvements to the block editor, site health check, several bug fixes and minor enhancements.
In this article, we will show you what's coming in WordPress 5.2 with features and screenshots.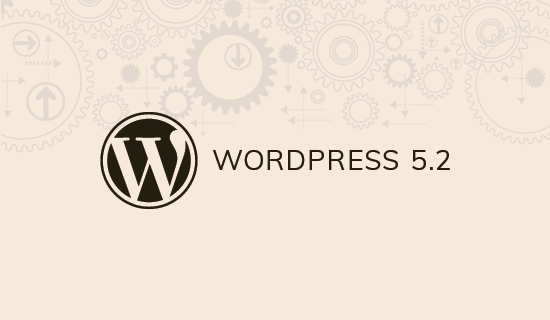 Note: You can try out the beta version on your computer or on a staging environment by using the WordPress Beta Tester plugin.
WordPress 5.2 is still under development, which means some features may not make it to the final release.
That being said, let's take a look at some of the upcoming features in WordPress 5.2.
Improved Fatal Error Protection in WordPress
The most common WordPress errors are usually fatal errors that stop users from accessing the admin dashboard.
Users are then required to undo changes using an FTP client or ask their hosting company for support.
WordPress 5.2 introduces a new recovery mode for site administrators. In case of a fatal error, you will see a message that 'This site is experiencing technical difficulties'.
WordPress will then send an email to the admin email address with a special login link.
Using that link, you will be able to login to the WordPress admin area. After that, you can undo any changes that may have triggered the fatal error.
This feature will be a blessing for many beginners who find it quite difficult to fix such errors.
Block Editor Updates in WordPress 5.2
The WordPress block editor (Gutenberg) was introduced in WordPress 5.0. Since then there has been continuous development on the block editor to further improve it.
WordPress 5.2 will continue that with some new features and enhancements to the block editor.
Dashicons, the default icon font used for the WordPress admin area will have 25 new icons to use. #41074
We hope this article gave you a glimpse of what's coming in WordPress 5.2. Let us know which features you find interesting and what new features you would like to see in the future.
If you liked this article, then please subscribe to our YouTube Channel for WordPress video tutorials. You can also find us on Twitter and Facebook.